We are a local driveways and paving contractor committed to delivering great customer service and high quality work at sensible prices.
A good driveway will add value to your house; much more than the cost of new drive; BUT it will only stay looking good if the work is done properly: If the work has not been carried out properly, then that expensive new drive could actually reduce the value of your home. That is why we use good quality materials and take extra care in the preparation to make sure your new drive will remain looking great for many years. We do all our jobs properly, so we have no hesitation in giving you a free 5 year guarantee on all our work.
Most of our work comes from the recommendations of our past customers: our priority is to make sure all our customers are happy with the work we do for them so they 'spread the word' so what we NEVER do is use that common 'scam' of quoting low just to get the job, dig up your drive and then tell you that the job will actually cost more because of some 'unforeseen' problem! – THE PRICE WE QUOTE YOU IS THE PRICE YOU PAY – You get a written contract before we start your drive with the agreed price on it: if there is any unforeseen problem then WE absorb the cost: NOT YOU.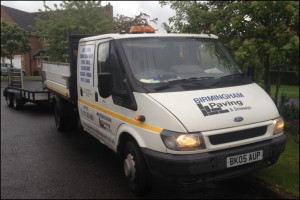 We believe in creating great quality driveways at a fair price; we aren't out to make a 'fortune' out of you by overpricing jobs and we always give you our best price: the price it will actually cost to do the job properly and to the standard where we are happy to guarantee our work – we regularly come across homeowners who thought they would save a few pounds by going for the cheapest quotes only to end up paying MUCH more, people learn from their mistakes and when they have to get their new driveway dug up and replaced: they don't go for the cheapest quote the second time!
Our intention is to give you the results you expected when you described to us what you wanted, and to hopefully exceed your expectations so you recommend us to your family and friends.